Tuesday, 30 October: "15 is the new 12"Ivan and I piss away most of the day, eating and drinking and nettin'. That, and we see Notre Dame. It's really beautiful. No wonder so many people are Catholic – the architecture alone is a great reason to join the crowd. I'm truly humbled by its beauty, but not enough to pay 50 francs to for a tour of the towers.
The drinking fountain near Notre Dame has an inscription in Sharpie: "US go home or we'll kill you". I take a great photograph of it – it's for my new coffee table book "Mortie's trip to Europe and fun with US foreign policy" – ask for it by ISBN number.
We eat at a touristy place called Quasimodo. The food sucks, but the wine provides an excellent muscle relaxant for our 15 (not 12!) hour train ride to Rome tonight.
Our train says we have a "couchette", so we assume we have a sleeper cabin, and it seems that way, until a middle-aged French couple enters the cabin and says something in French that denotes equal surprise. They introduce themselves as Bernadette and Michelle (Michael!) and seem like they'll be pleasant roommates for the night.
Ivan and I go to the dining car. We're late, but served anyway, and share a table with an old Italian man and a younger friend of his. Across the aisle, a father and his two teenage daughters, all American, talk about French history. We join in the conversation, as we seem to be the only other English-speaking guests in the car tonight. One of the daughters is studying international business in Luxembourg, and their father is taking them across Europe for a couple of weeks. The international business student has also travelled to Russia, so we talk about that for a bit.
The bottle of wine sets in, but not enough to offset the snoring from the French couple who occupy the lower bunks. Despite that, it's the most comfortable train I've ridden on. Amtrak could take some lessons here.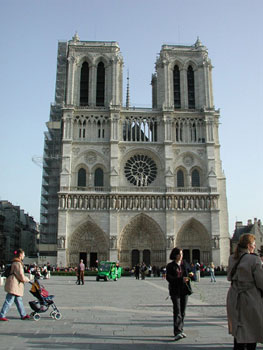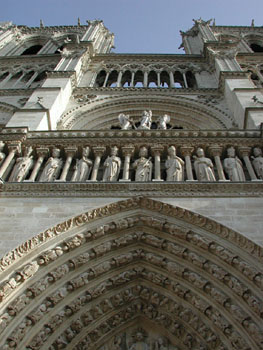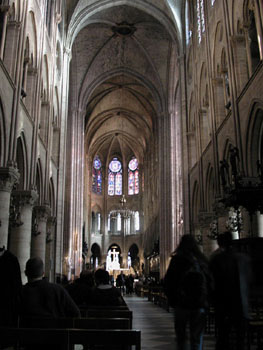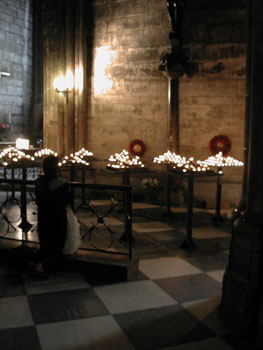 Wednesday, 31 October: "There's no Halloween in Italy?"
The morning train journey to Rome ends with instant coffee and an appreciation for terra firma. I haven't even stepped off the train and I feel comfortable here. People dress well, and wear it well. There's an animated quality to the conversations here, and they're acted out in a way that indicates sweeps week.
A young man approaches us and asks if we need lodging. We sense a scam, but he turns out to be legit, and we get beautiful accommodations at a local hotel for $35 each a night, at "Hotel Hollywood Stella". No other references to "A Streetcar Named Desire" can be found, but we are down the street from the Hotel California. Uh, oh.
Italian is best spoken by Italians. There's a sensual rhythm to the language, be it consonant or vowel. They figure us out immediately and respond in English, which disappoints Ivan, who has studied the language, albeit briefly, as we eat at the touristy Piazza Navona.
A demonstration of students is going on in front of a government building, but the banners they carry indicate that it's a domestic matter. Still, we'll not be visiting any of those symbols of American capitalism-we're sticking to Roman imperialism, thank you very much, and visit the Pantheon and Piazzi Venezia.
Ivan talks to one of the employees of the hotel. Jaclyn is an ex-pat from Massachusetts who loved it here so much she got on the next plane as soon as she got back to the US. She's looking to rent a room and has had some bad experiences, so Ivan and I become her personal entourage.
She says men are really aggressive here (a polar opposite to the Emerald City's asexuality problem), and said that the last prospective landlord had a box of condoms ready because he had heard that "American women are easy, like Sicilian women". Yow.
Train to bus, and long waits for both, as we slowly advance towards the possible room for rent. We're dropped off in front of an old Italian military base, which could easily be a backdrop for a Scooby Doo cartoon. It's creepy, and the landlord sounds creepy, so we never actually get to the apartment.
So back to Rome, where Jaclyn knows someone who works at an Irish pub in Rome! We drink Guinness. The place is decked out in Halloween, and possibly the only place in town that's celebrating the holiday. BBC2 is playing on a large video monitor, and for a moment I remember what it's like to be around others who speak English.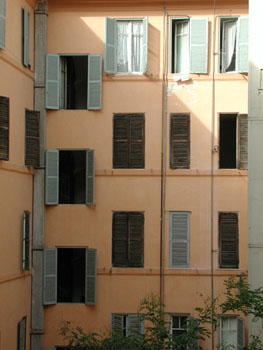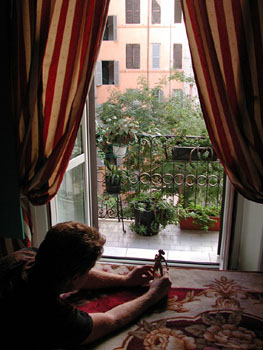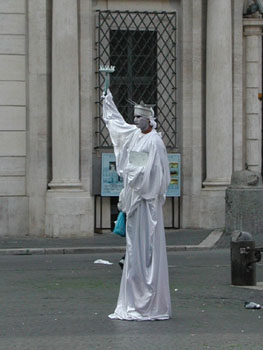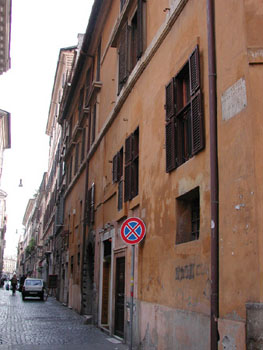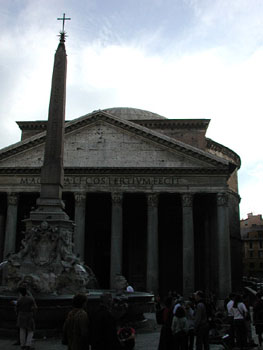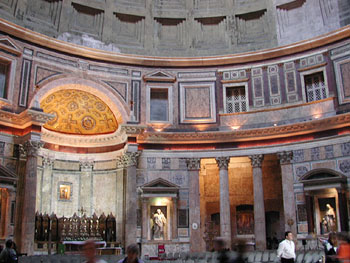 Thursday, 1 November: "Attack of the pregnant pickpockets"
We start the day fending off a large group of pickpockets. Ivan and I are accosted by a pack of pregnant women, appearing as a homeless family, carrying pieces of cardboard meant to conceal hands. Four or five women come up to Ivan at once trying to distract him, while another in the group quickly puts a hand in his front pocket to snatch money. As Ivan is a born-and-raised New York City native, he's wise to this scam, and grabs the offender's hand. Another in the group says "Merde!" (Shit?), thinking that they're caught. Ivan quickly leaves his groupies, grabs my arm and pulls us to safety, indicating that they were about to prey on me like a pack of wolves.
The Vatican Museum is closed today. We spend most of the day at San Pietro Basilica, the Vatican place of worship. This is it – God's Catholic Headquarters. They're very nice digs, and they put the Bellagio to shame. It's truly a sight that cannot be described in ASCII, HTML or other Roman languages.
Ivan and I climbed 500 steps to the top of San Pietro Basilica, where you're rewarded with a view of the entire city. No skyscrapers or modern buildings can be seen — it truly looks ancient.
It turns out that the Vatican is the last papal state, and in addition to having its own telephone and postal services, it must also remain neutral in Rome's political structure. That must explain the presence of all the condom ads that litter Rome's subway system.
Vatican phone service: Dial 2 for an outside number. I wonder what happens if you dial 0?
Ivan wants to see an opera on the trip. What better place than Italy? La Traviata has a waiting list, but we make it on the last of four seats! It's playing at the American Church, a non-denominational, cathedral-like establishment with the happiest color scheme I've ever seen in a place of worship. There's Hebrew and Roman lettering on the walls, too. It's a stunning opera, and of course the main character/love interest dies at the end. There's no happy ending/Bruce Willis saves-the-day scenario here.
Scooters of every likeness abound, from classic and new Vespas to crotch-rocket mini-sportbikes like Aprilla and Italjet. Vespa is Italian for wasp, and when you hear 20 or so of these things parading down the street, it *does* sound of infestation.
My first slice of folded pizza on the way home. Apparently, they serve it this way in NYC, but since I'm an upstater, I feel like a Canadian on his first journey to America.
Jaclyn leaves a note under our door offering several leads to karaoke bars in Rome. The future is bright.