Monday, 22 October: "Drive on the left!"
"Drive on the left, drive on the left, drive on the leeeeefffffftttt!"
from Ivan and Mortie's hit "Drive on the Left", now playing in the Fiat
Ivan and I fly to Dublin today – our friend Jillian is to meet us there. Ivan decides to rent a car, a tiny Fiat Punto (punter? some Spanish swear word?). He's never driven here before, but you have to learn sometime, and a large label affixed to the windshield's interior reminds us to 'DRIVE TO THE LEFT' with an arrow pointing to the … left. It's in German and French, too. They drive on the same side of the road as we do, apparently.
Apart from one error on the way out of the rental car lot (the people at the booth must have a scorecard for how many rental car drivers exit the lot the opposite way), Ivan does a capable job getting us to the city center. We make a game of it, singing a made-up song called "Drive on the Left". The only lyrics to the song are above — it's a work in progress.
Ivan learns how to drive in Ireland by spending two hours looking for parking in the city center, while I check into the hostel, and wait for him and Jillian to arrive. We're at the Ashfield House (actually, Ashfield Concrete Building is more accurate), complete with pool table, continental breakfast (here that means assortment of fried things) and sparse but comfortable rooms.
Jillian checks in across the hall from us. She's sharing a room with a couple — two Americans working here for the last month — and the girl apparently has a Valley Girl accent. I meet Jillian's friend Ken, from Dublin, who drops her off before he's on his way.
Jillian moved to Portland from Seattle in September, and then to Ireland to work at the Glencree Reconciliation Centre, a facility that helps students and groups from Ireland understand the decades-long conflict in Northern Ireland, and to work towards a solution. As a volunteer there, she gets to work with the students and will be there through mid-December.
After dinner, Ivan crashes in the room, fast asleep. Jillian and I go to the greatest dance club in the whole of Dublin: Ri Ra (Gaelic for 'uproar'). We close out the place at 3am, and get late night chicken kebabs under bright fluorescent lighting. Life is good.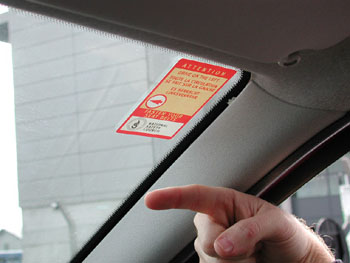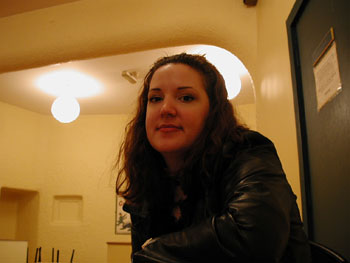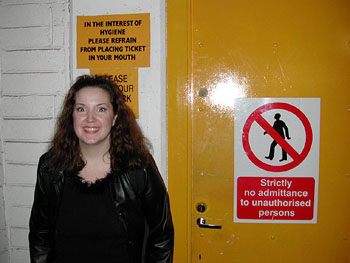 Tuesday, 23 October: "Oh, I love that dirty water"
Ivan and I decide to separate for a couple of days. He wants to drive to the West Coast and see castles on islands and cliffs. I want to go to Glencree for the night and back to Dublin. Ivan agrees to give Jillian and I a lift to Glencree, as he'd like to see what Jillian's place is like.
People cross the street in front of us as we drive there, with little regard to the danger. Cars have right of way here. There's a few close calls, especially from elderly women who almost seem to *want* to run in front of Ivan's car. We affectionately call them "Grandmakaze".
The country roads are *narrow* out here — about the width of two Yugos when you drive rurally, which we do. A very large truck coming around the corner scares the bejeezus out of us. I sing "Drive to the Left" in my head to return my blood pressure to normal.
We arrive around 3pm (that's 6 am 3 days prior, Seattle time), and it turns out that Ivan's destination on his cross-island journey is 4 hours away, so he stays the night at Glencree instead. He's put in the Turkey Room, which contains a couple of posters from Turkey, and I'm put in the Finland Room, which looks like an Ikea showroom.
The water is brown here, on account of all the peat in the area. Not potable.
We meet Jillian's fellow volunteers — they're from all over the globe and seem to be a tight knit family. Counting Ivan and myself, we bring the total pool of Americans to five, throwing off their ecosystem a bit.
Dinner looks like rice and chicken kiev, but the chicken bit is actually 'quorn' — I think they told me it's a mushroom and corn based meat substitute. It tastes good — I don't know if they sell this at home, but can anything replace a Vienna beef hot dog with cream cheese?
Jillian's friend Patty, an older Irishman, brings out a guitar and sings standards. He's very good. Ivan and I sing 'Sweet Caroline' with him, and then Patty plays along as I sing a folksy version of David Allan Coe's "You Never Even Called Me By My Name", where one verse in the song contains the perfect country song. That part is written by Steve Goodman (who wrote a couple of pep rally songs for the Chicago Cubs) and goes like this: Well, I was drunk the day my mom got out of prison/and I went to pick her up in the rain/But before I could get to the station in my (broken down) pick up truck/She got runned over by a dammed old train.
Since Ivan's here *and* has a car, we go to a local pub in Enniskerry. Ivan's excited — there's going to be a live band here tonight, and he hasn't heard traditional Irish music. Little did he know we'd leave the club still waiting to hear it , as they played mostly American covers. That's fine, I guess, but Suzanne Vega's "My Name is Luka"? Bea (bay-a), a Spanish volunteer, cringed at the music, and her bottle of red wine with the screwtop cap. Yanik, the French volunteer, joined in with a fine wince.
They played 'Sweet Home Alabama'. Making lemonade from lemons, Jillian and I performed a swing dance hoedown to Skynyrd's classic, and it was a much more tasteful performance than my friend Spenser and I swing dancing in a drunken state to "Amazing Grace" at Molly Maguire's a few weeks prior.
Ivan's our designated driver, and drinks no absinthe. We sing 'My Way' on the way back to Glencree, much to the chagrin of our foreign guests. Maybe Sinatra *isn't* the universal language.