Wednesday, 17 October: "Solidly colored canvas or masterpiece?"
I knew Ivan and I could kill two birds with one stone today – to see great modern art and drink great espresso. Solution: the Tate Modern. The Tate has two pay-per-view events today – an exhibition on surrealism, and a Katharina Fritsch retrospective. We have no idea who KF is, save for the placement of a rat on her promotional posters. These exhibitions cost 10 pounds, so we went right to the free stuff, being proper "Let's Go" travellers.
Of note:
Concert for Anarchy: An upturned piano suspended from the ceiling converts classical music to noise. The keyboard ejects itself, then slowly withdraws back into the piano over several minutes. The lid closes. Repeat as necessary.
De Stijl (Dih Shtill): These are the kids who used only horizontal and vertical lines in their work. One fellow in the group, named Van Doesburg, decided to use diagonal lines. This freaked out Mondrian, one of the group's other members, and he promptly quit the group. Shallow victory or playfield of the insane? You be the judge.
Basketballs under Glass: Former stockbroker-turned-artist Jeff Koons suspended three basketballs in a large glass tank, equally positioned from the glass and from one another. He explains that the basketballs, positioned as weightless objects, approach the perfect state, which he envisions as death. I'm thinking that he was very good at manipulating the stock market, too.
Within view of the Tate is the Millenium Bridge (several architectural items in London have been emblazoned with the "Millenium" prefix, already dating their existence), a beautifully designed, pedestrian-only suspension bridge. While I gandered, an American who looked a lot like Dale Chihuly (sans eye-patch), informed us that on the bridge's inauguration day, tens of thousands of people traversed it, causing it to sway so horribly that it had to be shut down. It's set to open by the end of the year. Form: 1, function: 0.
The destination *is* the reward. Illy Espresso at the Tate! I'm such a coffee snob!) Ivan and I are surrounded by multicultural art school girls of doom. I'm reminded of a Joy Division t-shirt I used to wear proudly.
Ivan's not into modern art, and while I agree that some of the work here is nothing more than shysterism, there *is* some wonderful stuff here.
At the Tower of London today, the tour guide told us that the Earl of Essex, the only male execution victim there, didn't expire after the first throw of the ax. Apparently, three times *is* a charm.
I finished Nick Hornby's "About a Boy" today. It's a good read. I wish I could read faster than one word a day, though… I stopped "War and Peace" after "It was". Anyway, that's been replaced by "Only in London W2" by Hanan al-Shaykh. She's an Arab writer living in London, and I picked it up based on its description: A flight from Dubai to London hits turbulence and brings together four people from different ends of the Arabic world. It seems like a compelling read – I'm unsure if my decision to buy it is influenced by September 11th.
Ivan is drawing a likeness of me at the King's Cross/St.Pancras station coffee shop (Mental note: erase other mental note about staying away from coffee shops at tube stations). Judging by the rendering, it seems that I'm in dire need of a shave.
We meet two more of Ivan's friends, David and P. Smith, at the station, and along with Iain and Storme, wander to a pub called the Rocket, which has frequent drinker discount cards (Mental note: I think I have an idea for Molly Maguire's, my weekly drinking establishment). I overhear a group of people mention a karaoke night here on Thursday! They emerge with a disclaimer — the place is under new management, and may not have this distinctive night anymore. Sad if true, as there is always room for more karaoke.
A long walk takes us to Leicester ("Lester") Square (tourist central) and to a Vietnamese restaurant. We're shuffled upstairs where a waitress takes our orders with chilling Terminator-like efficiency. Within viewing distance at the intersection outside is a 30-foot-tall likeness of Jackie Mason's face. Startling. Our dinner guests don't know who he is, but sci-fi/dungeons-and-dragons-like conversation saturates the air anyway. I do my best to stay awake. They *are* really nice people, and are entitled to their hobbies, even if it's a hobby I haven't personally been involved with since I was half my age.
Pubs close at 11pm. Bugger. Dance clubs stay open late. Yes!
(more text follows photos below)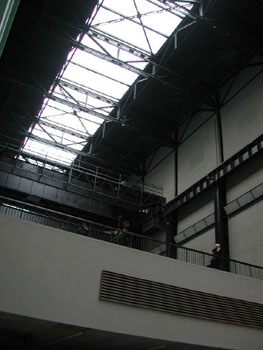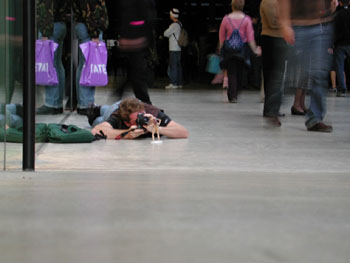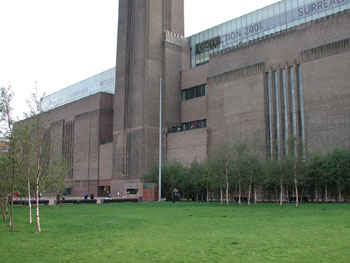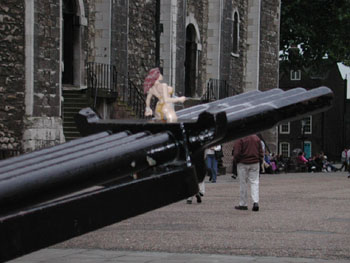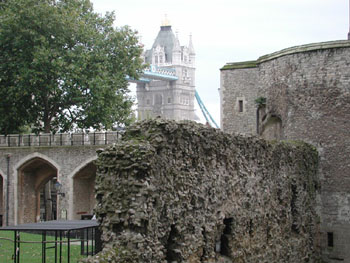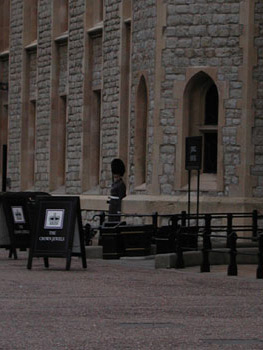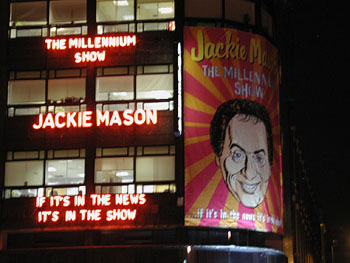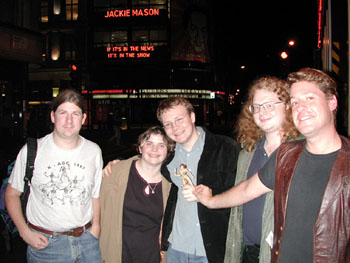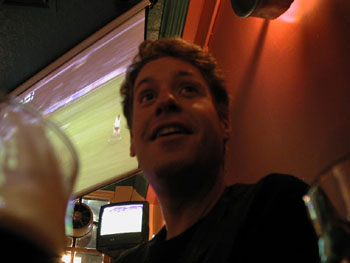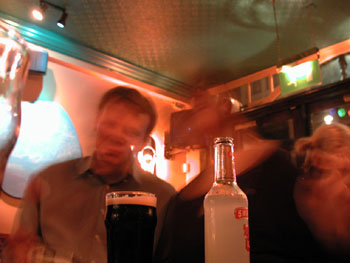 Thursday, 18 October: "Shove it up your arse!"
Nothing happened today.
Well, that's not exactly true. Ivan, Vika, Iain, Storme and I eat lunch today at a pub, and I have the pleasure of experiencing my favorite British dessert, sticky toffee pudding, originally introduced to me during a summer trip to Scotland. It's sort of a bready-sugar thing served warm with custard. You can buy it at the grocery stores here in a can. Put can in hot boiling water. Wait. Open can onto plate. It sounds better than I'm describing it. Really.
Ivan and I separate for the day. I wander around to Covent Garden, and enjoy coffee not served from a machine. The sun's out and it's 60 degrees. Beautiful. A busquing street kid tells the customers at the table next to me to shove something up their arse. I was only eavesdropping, so I'm unsure as to the identity of the item intended for shoving.
A group of Hare Krishna parade past me, drumming, singing and dancing. Handily, they have written the lyrics to what they're singing on a large sign displayed proudly above them. It's easy, though: Hare, Hare, Krishna, Krishna, Hare Krishna… Lather, rinse, repeat.
A group of violinists (violinii?) in an alcove below play classical music, but just dove into some Greek or Russian dancing-clapping thing.
I later amble past the Theatre District, and one of the houses is playing 'Cats'. Can't we just move on?
During a short shopping spree, I successfully secure the second season of "The League of Gentlemen" and "Ali G: Aiii". Life is good.
It turns out Ivan and I are in the same Internet cafe last night, and that's how we run into each other. We eat at a touristy chain restaurant called Garfunkel's, where the deep-fried Vegetarian kiev burger doesn't go so well with the too-fresh merlot. Maybe I should have ordered a white zinfandel?
On the way home on the Tube, two men who look like you wouldn't want to fight with at a pub sit across the aisle from us. One is showing the other a video game on his cellphone. Then they send each other text messages on their cellphones. After they bore of that, one of them kisses the other's shoulder and leans his head there for the rest of their journey. Book does not equal cover.
I'm pleasantly surprised by this city, and the many ways in which the surprises are received.