Tuesday, 16 October: Shagadelic curry
A late start this morning. We're awakened by Storme, who reminds us that we're meeting Iain and Vika. Vika is a friend of theirs living in London for a year, and is being paid to speak about and study Italian literature. She's from Moldova, bordering Ukraine, and her current permanent home is in Boston. The five of us dine at a curry house off Warren Street. A group of office people are sitting behind us, talking about other office coworkers and conducting a poll as to who might be the most "shaggable". Working in an office isn't much different from living at university dorms, I wonder, as I down a meat curry and lassi.
Ivan and I tube to Trafalgar Square, after a brief stop at Tottenham Court Road, a large electronics shop area. Anything gadget-like can be obtained here. It's also the home to Muji, the smart-money's Japanese version of Ikea. Again, more well-designed, well thought-out items using a minimum of materials.
The tourism minister in Israel was shot today. Uh oh.
Trafalgar Square brings the inaugural photo of Jungle Girl(TM). Jungle Girl(TM) is the barely-clothed, knife-wielding, large-breasted poseable figure that Ivan has chosen to be a recurring photographic theme during our overseas visit. An older, somewhat mad-looking gentleman stares at Ivan as he props up Jungle Girl(TM) on the fountain ledge outside the National Gallery, using a lid from an absolutely abysmal cup of coffee purchased from Charing Cross station. (Mental note: stick to restaurants and coffee houses not attached to tube stations.) Unlike Seattle, Starbucks doesn't litter retail space every 100 yards or so. Several coffee houses excel here, but the Italian restaurants put the houses to caffeinated shame.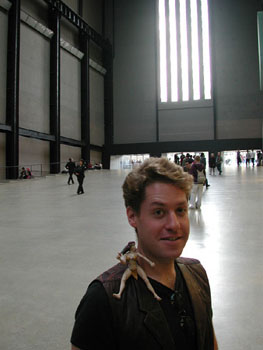 The National Gallery is right next door. Admission is free, but a donation is requested. *Someone* has to pay for the hundreds of 12th to 19th century portraits stored here. I have to admit I slept through most of the 12th to 17th century paintings — well crafted, but either portraits or depictions of Biblical scenes — with the exception of Paolo Veronese's "Portrait of a Grotesque Old Woman," which could really be described as "Portrait of a Rubenesque John Gielgud dressed in 16th Century womenswear for royalty-on-the-go."Georges Seurat's preliminary studies of "A Sunday Afternoon on the Island of La Grande Jatte" are displayed here. I felt a little Chicago pride, as the final result is displayed at the Art Institute of Chicago.
Next to the National Gallery is St. Martin-in-the-Fields, a beautiful church with signs inside saying that it costs 2 pounds a minute to operate. I wonder if that's pay-as-you-go or if they charge more once the monthly minutes are up. Jungle Girl(TM) is photographed outside.
Ivan hands me a postcard that announces the availability of "The League of Gentlemen, Series 2" on DVD in the UK! The sun shines a bit brighter today.
We stroll by 10 Downing Street, the British White House. Apparently, Tony Blair's family is so large that they had to move into 11 Downing Street. Still, both are inaccessible via the large security gates, which look very thrown together, and a stark contrast to the buildings' formality. A walk by Westminster Abbey and Big Ben propels us to the London Eye, a large ferris wheel from the future supported by one side and offering 360 degree views of London. Ivan has a small guidebook that has points out the names of the different landmarks. Curiously, MI6 (their Secret Service headquarters) is on the map. Maybe they should have a large marquee over it they says "REALLY SECRET HEADQUARTERS".
London is stunning from this height. The sun is setting, and autumn colors accent the landscape below. Several jet trails streak the sky… I wonder if they're from fighter jets patrolling the skies on security alert. The papers here have the war on the front pages, but the feeling in the city seems to have a "life goes on" attitude.
So much for frugality. I drop a small fortune on a pair of Italian boots, and promptly ask the clerk to dispose of my walking shoes of several years, after one of the heels decided to divorce the pair without warning. I'm eagerly awaiting Florence, where I can purchase a shiny Italian suit for my next Vegas trip. Bellagio, here I come!
Italian for dinner — cannelloni, shiraz and a shot of espresso. Damn! Jungle Girl(TM) is photographed with knife and fork near completed pesto linguine.
On the way back to Iain and Storme's place via the Tube, Ivan and I spot a burly man sitting across the aisle from us, dressed in a tee shirt and jogging pants, fast asleep. Two paths of drool on his shirt are currently on a lackadaisical race towards his stomach. Ivan reaches for his camera, perhaps sensing another Jungle Girl(TM) opportunity, but I nod disapprovingly. I wonder about it later, though… it would have made a great photograph.