Wednesday, 7 November: "Chemistry 102"Poor Ivan. He spends most of the day asleep as a result of the previous night's intoxication, so I head off with Jeff and Gabrielle to the public market. My head's slightly fuzzy, so I order a baguette from the deli while the others get a slab of meat each from the butcher's for cooking later tonight, and probably not for sharing with the vegans residing at the hostel.
After a long afternoon siesta, Ivan and I trek to the waterfront in search of Spanish food, but as we walk along the Boardwalk we find that nothing's open until about 9pm. The restaurant we do eventually find is touristy, but the paella de mariscos (Spanish version of seafood risotto) and the appetizers are acceptable, but we wish we had done a bit more research before we had headed out.
Ivan and Janet broke up today, via email. It's mutual, and the benefit of this is that he's moving up to Seattle for a few months to get sorted. Likely he'll head to San Francisco after his brief stay up north. (Update: Ivan and Janet reconciled upon Ivan's return to LA).
A lot of new faces adorn the hostel tonight upon our return. Peter and Jeff ask me I'm going out tonight, and a voice inside my head says, "I really need a good night's sleep tonight as I have an early flight to London tomorrow morning," but the voice that actually speaks says "11pm, then?"
Last night was co-ed group night, but for whatever reason, the girls (women?) in the group head in one direction to go clubbing, and the boys go towards the Las Ramblas district in search of a drinking establishment.
We pass the Plaza Catalunya, where earlier I saw two women mistakenly feed pigeons, and then were immediately covered with dozens of them, hundreds in wait in a circling queue. The womens' arms are outstretched and pigeons are perched on them. This promises to be messy, so I take a photograph for posterity's sake.
We're handed flyers to a couple of clubs, but we're in youth hostel dress code, which will negate entry into most of them. They look pretentious from the outside, and I've already been to clubs like this enough to want to try something different. A group of prostitutes seem interested in not wanting us to enter the clubs, either. We politely shoo them away, as we search for the perfect pub.
Drink what you know. We had a great time at London Bar last night, so we go back for more. No jazz band tonight, however. It's a Spanish cabaret act. A theatre group with musical instruments and badly-written sketches (keeping in mind that none of us even understand Spanish), but their musical abilities outshine those weaknesses. The lead vocalist is in her 50s and has a stunning voice, accompanied by a very capable flamenco guitarist and violinist.
Still, it's a strange destination for six guys who just wanted to go out drinking. An Aussie guy in the group, Brigham, sums it up by saying, "This is mad. This is *so* mad," at which point an actor jumps from behind the curtain dressed as Robin, and holds a cardboard cut-out of his professed love interest, Batman.
Mad, indeed. Ivan and I leave at this point, and wonder if they ever made it out alive.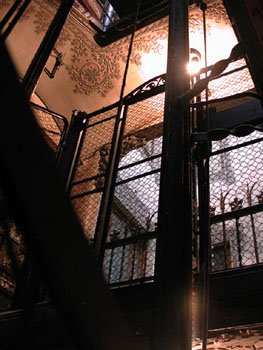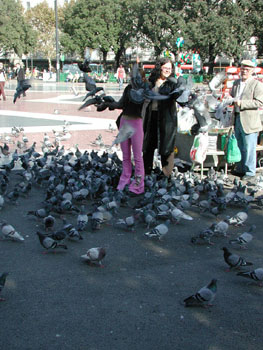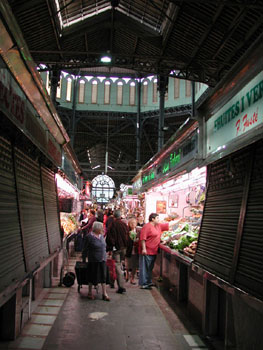 Thursday, 8 November: "Brushing up on conversational English"
An uneventful transit and jet ride brings us to London in the late-morning. We're not sure where to stay. Iain and Storme have offered their living room again for the two nights we're here, but we really want our own rooms until we depart.
Hotels are a bit more expensive here, but we manage to find a hotel in Earl's Court for 40 pounds a night ($60) each. It's not a great deal, but we get separate rooms, and the added amenities of TV, Nescafe instant coffee and warmth, because London ushers in a 36 degrees F temperature today.
Pub food is comfort food, and their menu offers jam sponge pudding with custard, a happy second to the sticky toffee variety.
Tonight is rest. I watch BBC to the late hours. The Weakest Link is on. Anne Robinson hosts it here, too, but she's much kinder to the guests here, and the way the guests defend their votes is almost… civilized. I prefer the slaughterfest of the US show. She's much more in her element in the States.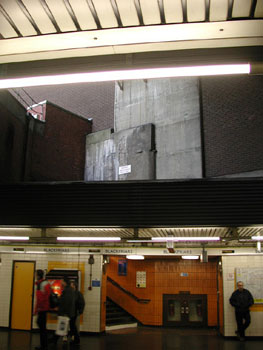 Friday, 9 November: "Great Tate, Less Shilling"
I wake up with the television still on, blaring a British version of a Ricki Lake-like show. Eek.
The electricity in my razor grinds to a complete halt. I now have a badly conceived soul patch/goatee, and the beginning of noticeable sideburns. If I'm not careful, I might be mistaken for a dot-com programmer, albeit without the salt stains and Lord of the Rings t-shirt.
In the news today, a Latvian woman took a swipe at Prince Charles with a carnation. In other news, the WTO Ministerial Conference is being held this weekend in Doha, Qatar. More importantly, the forces of evil were defeated by the forces of malaise when Mark Sidran was unofficially edged out by Greg Nickels in the no-contest for Seattle Mayor. Wake me in four years. Mortie in 2005!
Ivan's gone for the day. We're meeting tonight at Vika's house for Russian food with her, Iain and Storme. I forgo any idea of a shiny new suit and head straight for the Tate Modern, to finish an idea begun at the outset of this month of irresponsibility.
I would live at the Tate if they only provided accommodations. If I donned a beret and cigarette holder, I'm sure I could stay in the boiler room, brooding or something. Maybe reading Byron by candlelight? I enter the Katharina Frisch exhibit. It is so German. Where did I put that black turtleneck?
The exhibit spookily begins with Gespenst und Blutlache's "Ghost and a Pool of Blood". A plexiglass acrylic puddle on one end stands opposite a mannequin with a white sheet.
Now there's a giant elephant in the room. It's green and life-sized and made from wood and polyester. It's funny in that I didn't expect to walk into a room and see a giant elephant. Is it art? Like the adjoining collections of Madonna statuettes and found objects placed into intentionally arbitrary design patterns, I'm not sure.
Two 7′ diameter hearts, one made from metallic wheat and the other from metallic coins, lay on the floor. It's called "Heart of Money and Heart of Wheat". It's good, but my gaze is upon the skyline. It's cold, sunny and 40 degrees today. I hope it's not this cold in Seattle tomorrow. I'm going to miss the sun – I was just getting used to it.
The Kraftwerk portion of the exhibit begins with "Company at Tables", consisting of 32 mannequins facing each other at a long table with a red pixilated tablecloth and white benches.
Then there's "Monk, Doctor, Dealer", in black, white and red, respectively, represented as life-sized statues of the aforementioned occupations. The dealer has a hoof instead of a foot, and the doctor is a skeleton dressed in medical garments. Isn't there any non-German stuff here?
Aha! Man and Mouse! A giant 6′ tall rat stands on a large pillow, which in turn rests on a man laying on an Ikea-like bed. Cool.
But not as cool as Child with Poodles! Rings of poodles, hundreds of them, circle a little baby statue with a gold foil star underneath it. There's something about seeing hundreds of poodles circling a baby statue that gives me great respect for modern art. I mean, really – how can you go wrong with poodles?
And then there's the Surrealism: Desire Unbound exhibit, focusing only on sexual imagery in surrealism. There's not as many highlights as above, but there's several classic items here, including work from Duchamp, de Chirico, Magritte, Dali and Miro.
Rene Magritte's "The Lovers" is really powerful. It shows two people kissing, but their faces are each covered in sackcloth, so they don't actually touch each other. I could contribute that this could be a societal statement regarding the not giving completely of ourselves to those we love, but I won't go into that, since I typed that just now.
Salvador Dali's "Venus with Drawers" is a statue of Venus with five drawers (each breast, chest, navel, and knee) with handles lined with fur. I can't possibly add any literary comment here.
Hans Bellmer freaks me out. His work is *creepy*, in that it's made with dolls or parts of dolls contorted into impossible positions. One of his dolls (aptly named "The Doll" and has no head) makes it into several of his works, and reminds me of Ivan's jungle girl mascot, albeit a hideous, beheaded version.
The most interesting room, though, is the room filled with postcards, letters and photographs from the artists to their lovers. There was a lot of sleeping around going on, but still not the drama that is Ballard's Old Pequliar.
The last item at the Tate I note is Rainy Day Canape (by Dorothea Tanning (still alive at 91). It's a tweed upholstered sofa, twisted and contorted, trying to couple with itself. You can't get that at Ikea.